Our Adventures Hiking in Alaska
Nature in Alaska is often raw and rugged. So are their hiking adventures. From groomed, marked trails to rocks and roots up a mountainside. Then there's crashing through the woods, into an island's interior. It's known as bushwhacking. And I'd always go with a guide. Someone who has explored this terrain before.
As first-time visitors to Alaska, we started with what we are used to. Groomed, marked trails. The last thing we wanted to do was get lost somewhere in the wilds of Alaska. Perseverance Trail in Juneau is about 3 miles, out and back. From its trailhead. Quite a few people were on this trail. It's wide and smooth in stretches and labeled as a moderate trail because of the elevation. From resources, I find the elevation gain is between 500 to 1500 feet.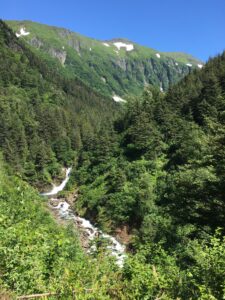 Now the key phrase in the previous paragraph is "from its trailhead." The Perseverance trailhead was a little over a mile from our hotel. One way. Literally uphill, into a mountain canyon from the city down below. The trail started for us at an old mine shaft that blew cool air as we passed it. We climbed up above the Gold Creek valley along deeply cut switchbacks. The stunning views made the wear and tear on our legs worth the effort.
The next day, I wanted to try the Mt. Roberts Trail. This one is marked strenuous, but it's a tiny bit closer to our hotel. My husband said he'd wait for me at the cool hotel. It seems we brought the East Coast heat with us to Alaska.
I stopped at the front desk to see if there was a shorter way through town to reach the mountains to go hiking. The manager jotted a hand-written map of street names for me to follow, but it was no less strenuous to climb up into the valley again. The manager also took my name, phone number, and the trail I'd be on.
"Why?" I asked.
"Oh, we just need to know times and names so we can send up help if you don't return by 8 p.m., say."
Wait! Don't return? Why wouldn't I return? It was only 11:00 in the morning.
I checked my water. I took salty nuts and pretzels in a daypack. Once I got to the trailhead, some people were standing around. I asked them if Mt. Roberts Trail was marked.
"Oh yes," a young woman said. "I've done the trail lots of times."
"Is it marked with paint on the trees?" I looked up into the thickly forested mountainside.
"You can't miss the trail. Just follow the path."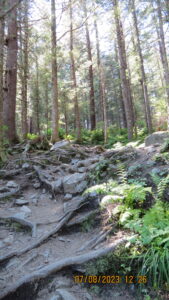 The path, I told myself, as I started to climb. My quads and legs were a little tight from yesterday. I didn't see any trail markers. Just trampled brushes, roots, and loose rock. I asked anyone I found on the trail if I was heading in the right direction.
"Yep! Just keep climbing up."
It appears the rocks, roots, and squashed plants were the trail. Lots of switchbacks. Again, the scenery is worth the effort. Yes! It was exhausting because it was the second day of intense hiking for me at the beginning of our Alaska trip.
Luckily, I brought enough water and salty snacks. I hiked alone, but I knew where I was on Mt. Roberts Trail. Kind of. There were others hiking this trail. I knew how to get back down to the roadway to return to the hotel before they sent out a search and rescue team. In fact, my husband met me on the road with more water and nuts. Perhaps he was worried. I did take all day to do this trail.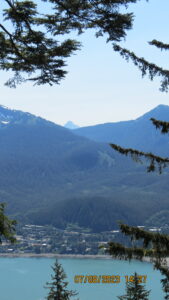 Still, it wasn't bushwhacking. The dictionary defines bushwhack as: travel in wild or uncultivated country. No trail. And unless you have an absolute sense of direction, I would never bushwhack alone. Of course, I could get lost in a cracker box. Really!
Now about bushwhacking…
We visited quite a few of the smaller islands of the Inside Passage in Alaska's Panhandle when we cruised on the Safari Endeavor, our UnCruise ship. These islands are also known as the Alexander Archipelago. The islands we visited appeared to be uninhabited. No marked trails to the interior. That didn't stop us from venturing in. The islands we explored are part of a temperate rain forest. Yes! Even in Alaska.
After beaching our skiff, the guide did not "cut" his way into the thickly wooded interior of the island. No, we merely shoved pine branches and leafy bushes out of our way. If we couldn't go straight, we went around boulders, across logs, and climbed down drop-offs. We stayed together and the guide always went first.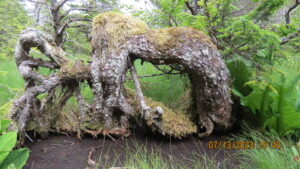 Single file, we tromped into the woods. One time I was following the guide.
"Do you have snakes here in Alaska?" I asked him.
"No," he answered. "No snakes or ticks in Alaska."
We continued to trudge through bogs, rocks, and tree roots.
"Why do you ask?" He questioned.
"I always—and I mean always—find the snakes when we hike with our family." I answered.
He thought it was funny. I did not!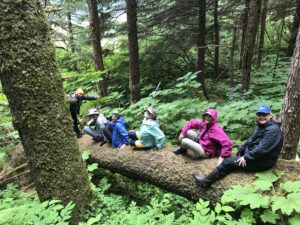 Some of the islands we bushwhacked had muskeg, or bog, in addition to roots and rocks and logs. Muskeg is marshland with ink pot holes in it; black, murky water. According to the internet, muskeg is "a peat-forming ecosystem found in northern climates," like Alaska. Muskeg, peatland, and bog seem to be the same thing, according to the internet. [paraphrased] I'll be back next month with more Alaskan adventures.
Thanks for stopping by Camping with Five Kids. I hope your fall is filled with fun and excitement.