Insecure Writers Want to Know
AI. I wish I understood it better.
I believe AI is a program. And there are different programs. AI follows your prompts, parameters, or questions. It's a tool. It can give you a base, a starting point for a project or research or image. AI shows you, what is already out there on the web, in libraries, or research sites. AI draws on the information you give it access to. An AI program merely gleans information from what is already in existence and distills it per its programming. Sometimes in minutes!
But.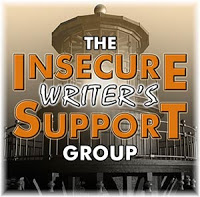 I still say machines can't think. Oh, machines can tally up numbers or percentages once a person creates a table or spreadsheet. AI can gather scientific information out on the net, once experiments have been completed by humans, and follow its program to collate or maybe evaluate the findings to your specifications.
Yet in more subjective or creative areas, such as any psychological or philosophical circumstance or case or stories or artwork, AI can only tell you what's already out there. Themes or subject matter. Using someone else's words. It cannot think—or rather feel—to consider how another person would act or believe or change in certain circumstances. AI cannot come to its own conclusion.
We humans use lived experiences to make decisions. It's our backstory. It's what makes us act the way we do. We consider the extenuating circumstances. Yes, machines can gather information for us, but we still need to be the one to make a final judgement. Whether it's a story we are writing, an image we are contemplating, or a theory we are trying to understand.
AI should not be the end product of whatever a human is using the information-gathering program for. I will enjoy learning more about AI from your posts this month.
In October, I'm offering 2 FREE writing workshops.
On Thursday, October 19, 2023, at 6-7:00 p.m. at the Maple Shade Library in New Jersey, I will offer participants a framework to help them revise their fiction or memoir.
Maple Shade Library
200 Stiles Ave.
Maple Shade, NJ 08052
856-779-9767
Revision: The Questions to Ask – Register here: https://www.bcls.lib.nj.us/events/6269
AND
On Saturday, October 21, 2023, at the Eastern Monroe Public Library in Stroudsburg, Pennsylvania, I will be presenting a free workshop on Short Story Writing for the Pocono Liars' Club. I will share the five elements of a short story and how to use them with tight word counts.
Hughes Main Library of Eastern Monroe Public Library
1002 North 9th Street
Stroudsburg, PA 18360
570-421-0800
The 5 Elements of a Short Story – Register here: https://www.eventbrite.com/e/2023-pocono-liars-writers-workshop-tickets-689500092337?fbclid=IwAR2WdwseKQgNDkZqMujEJiZqIDZH1gQ4OZyY_nmZvQCTGEvG3Bbb6cnTCLk
If you are in these areas, I'd love to see you there. I'm encouraging participants to bring their works-in-progress in order to ask specific questions. I want to help you finish your manuscript to the best of your ability.
To find other free workshops I will be presenting this year, just look under the Workshop Events tab at my website. Thank you!
I am extremely thankful for all of you for being my sounding board and advisors on this scary writing and publishing journey.
Thanks for stopping by my little spot on the web. Please come again!
This post was written for the Insecure Writer's Support Group. I'd like to thank our co-hosts for October:
Natalie Aguirre, Kim Lajevardi, Debs Carey, Gwen Gardner, Patricia Josephine, and Rebecca Douglass! Please visit them if you can.
Our group posts on the first Wednesday of every month. To join us, or learn more about the group, click HERE.