Ahh cruising, the only way to see an area. But choose your ships carefully. There are many types of cruise lines now. Our honeymoon was spent on a Holland America line. The SS Volendam, a cruise to Bermuda leaving out of New York. The honeymooners' cruise. It left on Sunday morning. You know, after Saturday weddings back in the day. Okay, forty-two years ago, to be specific.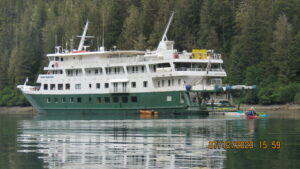 But this time, for an adventure in Alaska, we chose the UnCruise ship line. UnCruise Adventures is known for its adventurous cruises. It's all about getting the guests off the ship during the day to explore the area the ship cruises to. Let me back up a bit.
I am not dissing the large cruise lines, the huge ships with thousands of passengers and towering boats. They have different seatings for meals, restaurants and all the entertainment and shopping to do on the ship. I'm merely offering another type of cruise experience. A cruising experience my good friend and travel blogger Sarah Hawkins-Miduski recommended from her trip to Alaska.
The UnCruise is a smaller ship, about 84 guests. Our ship was the Safari Endeavour. Forty-two cabins. Thirty-five crew. A crew that got to know passengers and their preferences. One seating for meals. Top-notch cuisine. Yes. Just like the big ships. Our chef provided local fare; a meat, fish, or vegan selection to choose from. For every meal. And fancy desserts after lunch and dinner. We enjoyed fresh-baked selections for early risers to have with coffee or tea in the morning after yoga stretches or afternoon snacks with tea or coffee after our excursions. And the chef made allowances for any special dietary needs.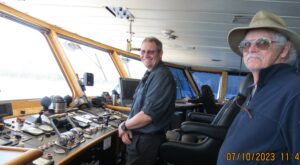 There was entertainment in the evenings on the Safari Endeavour. Cocktail hour every night before dinner. From nature talks by the tour guides to an amateur talent show; from game night or wildlife spottings to hot tubs, there was plenty to do onboard. We could even visit the captain on the bridge of the ship.
But the power of UnCruise is its guided shore excursions. Each day, there were adventures to choose from, with different levels of difficulty. We could use kayaks or paddleboards. We could go ashore on guided bushwhacking treks or just beach combing. We hiked to the top of ridges over glaciers or traversed the beaches where ice chunks lay. There were kayak and skiff tours of the islands and inlets. These were all half-day, guided events. We chose two events; morning and afternoon. We had to be back at the boat to have that delicious lunch—complete with dessert!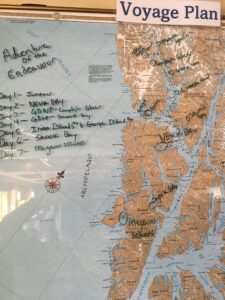 We went on the Glacier Bay National Park Adventure Cruise. We left out of Juneau and docked after seven days of adventure in Sitka, Alaska. We met so many interesting fellow passengers. A few couples from Australia, one from France. England and Canada were represented as well as the United States. Everyone was friendly—including the staff. We got to know each other. No assigned seating. We could mingle; we could exchange photographs and email addresses; life adventures and family memories. Share laughter of our experiences bushwhacking or kayaking. We partnered up when we needed to. We cared for each other on the trail.
Small cruise ships. Time to get to know each other. Making new friends who promise to keep in touch. UnCruise sent an email of all the photos they took onboard. The events. The memories. The friends. They made sure everyone was photographed enjoying themselves. Definitely worth the investment on this cruise. There will be more adventures to come from this trip.
Thanks for stopping by Camping with Five Kids. I hope your vacations were filled with fine adventures to cherish as well. Please feel free to share some adventures in the comments section. Have a beautiful day!