I discovered IWSG in 2016. July 6th to be exact. My first post. I was so excited. Seven years later, I'm just as excited to post to IWSG—and read other posts!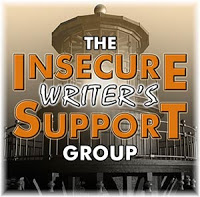 Writing and creating good stories and essays—even blog posts—are scary enough. But when you add publishing to the mix, it can freeze up a writer. Stifle her. Make her terrified to even try to get her voice out there in the world. But here at Insecure Writers Support Group, I have true friends. I learn so much from you all and find support.
I ask questions of fellow IWSG bloggers. We share emails. I buy some of your books. I read manuscripts and offer insight. I try to help with book launches. All in hopes of learning where and how to publish a great book. Great stories, essays, or memoir. And if my time comes when I have something to publish and sell, I hope you will offer advice and assist with a book launch for me. If I can figure this thing called publishing out, that is.
About my college memoir, Zibby Books said "while there were some great elements, it's not quite right for us at this time." **Sigh**
Recently, a writer friend said Dial Press, part of Random House, was accepting queries for unagented manuscripts for one week in August, so I sent a query. If they're interested, they will let me know.
But I need to move on and really investigate self-publishing. Learn marketing. You need this even if you are traditionally published. I need to build my following and newsletter. My website.
Once again, I am offering a FREE writing workshop at the Maple Shade Library in Maple Shade, New Jersey. If you are in the area, I'd love to see you there. I'm encouraging participants to bring their works-in-progress in order to ask specific questions. I want to help you finish your manuscript to the best of your ability.
My next FREE workshop will be on Thursday, September 28, 2023, at 6 p.m. We will be discussing backstory in fiction and memoir. When do you include backstory? Where do you place it? And how does it affect the characters in the story?
Come, stay as long as you can. Ask questions. I'm happy to help you with your manuscript.
Here are the particulars:
Backstory in Fiction or Memoir – 9-28-23 at 6-7:00 p.m. Please register here: https://www.bcls.lib.nj.us/events/6268
Maple Shade Library
200 Stiles Ave.
Maple Shade, NJ 08052
856-779-9767
To find other free workshops I will be presenting this year, just look under the Workshop Events tab at my website. Thank you!
Now I'm off to see how you've tackled this month's question. I am extremely thankful for all of you for being my sounding board and advisors on this scary writing and publishing journey.
Thanks for stopping by my little spot on the web. Please come again!
This post was written for the Insecure Writer's Support Group. I'd like to thank our co-hosts for September: J Lenni Dorner, Sonia Dogra, Pat Garcia, Sarah – The Faux Fountain Pen, and Meka James. Please visit them if you can.
Our group posts on the first Wednesday of every month. To join us, or learn more about the group, click HERE.