After a relaxing visit with my husband's sister in Florida, filled with delightful dinners and peaceful walks around lakes and parks to see the live oaks draped in moss, we moved on to New Orleans.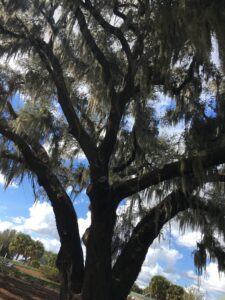 It's true. I forgot about Mardi Gras coming. Mardi Gras is celebrated on "Fat Tuesday," the Tuesday before Ash Wednesday and the start of Lent, a penitential observance right before Easter. If you've been following me, you know I find Lent difficult because I give up cakes, cookies, and candy. I've been doing this since I was about 13 years old. Lent is supposed to mirror Jesus' 40 days in the desert, fasting and being tempted by Satan. It wasn't easy for Him, so why should Lent be easy for me.  
But on this trip, all I was thinking about when we got to New Orleans were beignets. Lots and lots of beignets. Beignets are French donuts or fried sweet dough doused in powdered sugar. [Now you understand why I find Lent difficult. I need my sugar!]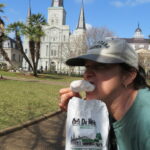 Mardi Gras is passionately celebrated in New Orleans. In fact, they begin their celebrations at least a week before Fat Tuesday. This is when we visited. We were thinking of Jackson Square and the French Quarter. We were thinking of taking a paddle boat tour down the Mississippi River.
Yes, we were hoping for parades and beads and trinkets for the grandkids. My husband used to visit New Orleans for work and bring home Mardi Gras trinkets for our five kids. But we hadn't realized the parades would last most of the night. And that they would stop public trollies from going into the French Quarter after the 8:30 a.m. trolley. We needed to take buses to get back to our hotel, but we needed to take them before 2 p.m. because even the buses couldn't get through the people staked out for the parade along the street.
Do you realize that people and hotels set up early in the morning to claim their spots along both sides of the street parade route? Do you realize some people wait there all day for the parade to begin at twilight?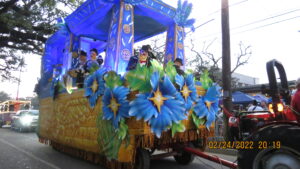 Tractors pull these colorful floats in the parade. Lots of magnificent detail went into creating them. Costumed people threw out beads, flowers, balls, and coins from these beautiful floats.       
We did get into the French Quarter to have our beignets each day and some delicious dinners. We had our tour on the Mississippi. We even visited the New Orleans Jazz National Historical Park right there in the French Quarter.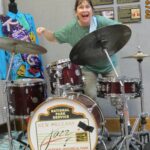 All we had to do was be patient to await our transportation and be sure we were out of the French Quarter by 2 p.m. so we could get back to our hotel.
But what did we do until parade time? Well one day, we met Elvis! In fact, we met a few Elvises. No, we didn't partake in the drinking during all the Mardi Gras parades.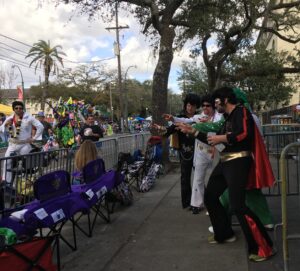 All the Elvises arrived by bicycles. It was the neatest thing! And only in New Orleans at Mardi Gras. In the words of Elvis Presley, "Thank you very much" for reading.