Insecure Writers Want to Know
How do you keep going when it becomes difficult to get to the end of your story?
Take a Short Break:
If I'm having trouble getting to the end of the story I'm working on, sometimes I save what I've got and go for a walk. It doesn't matter the weather. I just dress appropriately and head outside. I walk down to the lake by my home, or into the woods. Fresh air and nature help me clear my mind and rest my eyes from the computer screen. A change of scenery. A chance to think things through without the words or blank screen pestering my mind or eyes. I take a small notebook and pen with me in case ideas come to mind.
Ask Specific Questions: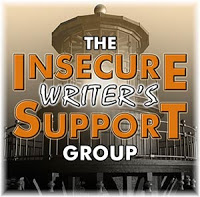 I hate to admit it, but I talk to myself about what's happening in the story, remind myself the point I'm trying to make. Ask myself specific questions about the characters, their motivation, their backstory or problems.
Talk to Others:
I used to brainstorm with my mother how to fix a problem in the story. I'd get up from the laptop and walk around her kitchen, spouting off what I was trying to accomplish with the writing. She'd sit there, patiently listening, asking questions. But she's in Heaven now. Yes, I still talk to her.
If I'm lucky, I can call one of my fellow writers and talk to her about the problem I'm having in the story. I believe everyone needs someone to talk to about story. This is why critique partners or writing groups are so important. This is why you all are so important to me.
Write the Ending:
Sometimes, I just type notes about what I want to happen at the end of the story and then see if I can bridge from where I'm running into problems to the end of the story. Rough notes on what should or could happen. Then smooth the notes into scenes. And then smooth it again. I'm trying to trick my mind to get to the end. Then I revise and hope things work out.
Let Your Subconscious do the work:
And sometimes I just need to walk away from the story for the day or maybe a few days. Even a week or two. Sleep on it. Don't actively think about it. Distract yourself. Let your subconscious work on the problem.
It will be interesting to see how you've tackled this month's question. It's wonderful having a topic to share our thoughts on each month. I am extremely thankful for all of you for being my sounding board and advisors in this writing and publishing journey.
Thanks for stopping by my little spot on the web. Please come again!
This post was written for the Insecure Writer's Support Group. I'd like to thank our co-hosts for June: SE White, Cathrina Constantine, Natalie Aguire, Joylene Nowell Butler, and Jacqui Murray! Please visit them if you can.
Our group posts on the first Wednesday of every month. To join us, or learn more about the group, click HERE.