Insecure Writers Want to Know
There are highs and lows in any profession, I'm sure. As writers, the highs are easy. Our stories are flowing. We actually finish writing them. They are selling. Someone is waiting to read them. This is difficult work. Make no mistake about that. We need to learn how to make our stories resonate with our readers, make the stories matter in today's world.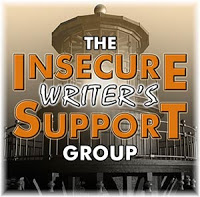 Then we need to learn how to pitch our stories to agents or publishers. Or we need to learn how to self-publish our books. Either way, we need to learn how to market ourselves as writers. We need to learn how to sell our books.
For me, the choice between pitching or self-publishing my college memoir is the difficult part. Creating a proposal would be a difficult part. Marketing myself and finding markets for my book are the difficult parts. These are the lows in writing for me. They can feel very isolating.
This is where Insecure Writers Support Group comes in handy. As a group of writers, we are not alone. We have others to ask advice from or share experience with.
A few of you offered your publishing experience with small publishers last month. Some of you offered marketing tips. Thank you so much! Truly appreciated.
As for self-publishing, Lori L. MacLaughlin said she used IngramSpark to print and distribute her self-published books. Lori said IngramSpark made her books available everywhere. She said they handle both print-on-demand and e-book distribution. I'd like to know more how she did this.
Has anyone else tried self-publishing? Did you take a how-to course first to discover all the options available, or just research how to self-publish online? We need ISBN numbers for each version of our book, right? I'm seriously considering self-publishing this college memoir. And I want e-book and hard copy format at this time.
I still need to learn how to make a solid marketing plan. Probably BEFORE I publish the memoir. Do you recommend any book-marketing courses or systems that have worked for you? Once again, I'm extremely tech-challenged. There are no wrong answers here, only different methods to the same end—knowledge about publishing and marketing our books.
*Please feel free to offer any insight you may have about self-publishing and how you got your books out into the world and how you marketed them. Any tips would be greatly appreciated. *
It will be interesting to see how you've tackled this month's question. It's wonderful having a topic to share our thoughts on each month. I am extremely thankful for all of you for being my sounding board and advisors in this writing and publishing journey.
Thanks for stopping by my little spot on the web. Please come again!
This post was written for the Insecure Writer's Support Group. I'd like to thank our co-hosts for May: Kim Elliott, Melissa Maygrove, Chemist Ken, Lee Lowery, and Nancy Gideon! Please visit them if you can.
Our group posts on the first Wednesday of every month. To join us, or learn more about the group, click HERE.