Insecure Writers Want to Know
Two things trouble me in my longer works. One is that I stress over whether I've said the same thing before. Oh, not the exact words or situation. No. I wonder whether I've discussed this same point or theme before, and I'm just rehashing it again with no difference in outcome. Yes! I'm talking about repetition. Many times, I can't see it in my own writing. Have you ever had this problem?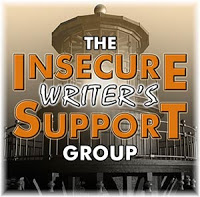 In my college memoir, I talk about the mother's job as teacher to her children. I talk about how my kids come first—even when I went to college. I talk about my inferiority and the struggles I had while trying to raise a family and go to college. I talk about the struggles my special needs daughter has.
I still sometimes receive comments that say, "you've said this before." And I'm thinking; "well, I'm reminding the reader what happened in chapter 4, or I'm trying to tie back to that first scene in order to move forward with the story line." I think I'm making it easier for the reader to remember what I'm talking about. So she doesn't need to look back to understand what I'm talking about in the present.
In a situation like this, what the writer needs to understand is whether another mention of the same point is different enough to warrant a new scene or new thoughts on the matter. Each scene, whether action or simply thoughts, needs to make a point. Needs to move the story forward. Something needs to change in the story or character to make the topic necessary to bring up a second or third time in the story.
If your next scene deals with the same points as before and the character is still lost in the same interpretation of the topic, it is repetitious and needs to be left on the writing room floor.
The second thing I have trouble with in writing longer stories is whether or not my character is changing and growing from her experiences in the story. Each scene is supposed to change the protagonist in some way. I know this. I teach this in my workshops. But can I see if it is working in my own writing? Not necessarily. Do you struggle with this?
Mostly, this problem is linked to my feelings of inferiority. It's pretty much all in my head. I rarely receive comments back on this one because I made a scene and point document for the college memoir. I know about the interior and exterior problems of a story. I just wish I could feel more confident about accomplishing it.
As to what delights me in my story writing, it has to be finishing the story revisions to the best of my ability. And moving on to another story.
*Please feel free to offer any insight on repetition in story or whether or not your characters are growing or changing throughout your story. It would be truly appreciated.*
It will be interesting to see how you've tackled this month's question. It's wonderful having a topic to share our thoughts on each month. I am extremely thankful for all of you for being my sounding board and advisors in this writing and publishing journey.
Thanks for stopping by my little spot on the web. Please come again!
This post was written for the Insecure Writer's Support Group. I'd like to thank our co-hosts for December: PJ Colando, Diane Burton, Louise – Fundy Blue, Natalie Aguirre, and Jacqui Murray! Please visit them if you can.
Our group posts on the first Wednesday of every month. To join us, or learn more about the group, click HERE.