Insecure Writers Want to Know
Hello and welcome to Adventures in Writing! I'm so glad you are here. I'm proud to be co-hosting this month's blog tour for Insecure Writers Support Group. IWSG is an amazing group of supportive writers who share knowledge and experience with each other.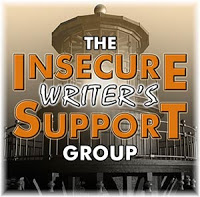 **Please, if you're interested in receiving creative writing tips, just sign up for "A Dose of Life's Adventure" here at my website. It would be greatly appreciated. I create a short newsletter maybe once a month. Thank you!**
Now, on to this month's topic. Inspiration. Creation of an essay or story. Such personal topics in any writer's life. Here are 3 tips for completing your creative writing project.
Create a writing routine

. When do you write best? Morning, before everyone wakes when it's just you and the teapot? A lunch hour with a notebook or tape recorder? Or evening, after your house is quiet and you can bring out your box of dark chocolates? Weekends? Twice a week? Three days a week. Whatever works for you is the correct routine.

Stop in the middle of an exciting part of the story

or project. This will keep you thinking about the story and be ready to write the next time you have a writing session. Don't worry about word count. Keep pushing forward in the writing process to get that first draft out. You are looking to have something completed in order to revise.

Talk to someone about your writing project

, preferably someone who reads or writes in your genre. I like to discuss with another person ideas, points I wish to make, or problems I'm having in my writing. Or sometimes I just need to talk to myself. This is when I take walks outside—regardless of weather—and hash out possibilities or problems. Take notes, regardless of who you "talk to" about your story. Remember, this is your creative story or essay. Take only the suggestions that work for you and leave the rest on the cutting room floor—or in my case, outside in the mud puddles.
No. Creating a story, essay, or book is not easy. You need to pound out that first draft—no matter how terrible you believe it is—in order to deepen or build upon it. There's no other way to create something out of nothing.
But you don't need to do it alone.
Once again, I am offering FREE writing workshops at the Maple Shade Library in Maple Shade, New Jersey. If you are in the area, I'd love to see you there. I'm encouraging participants to bring their works-in-progress in order to ask specific questions. I want to help you finish your manuscript to the best of your ability.
My first FREE workshop will be on Thursday, May 18, 2023, at 6 p.m. We will be discussing character development. I will offer tips and answer questions on the topic of how creating believable characters in story or memoir is not all about how they look. It's about how they see the world.
Come, stay as long as you can. Ask questions. I'm happy to help you with your manuscript.
Here are the particulars:
Character Development – 5-18-23 at 6-7:30 p.m.
Maple Shade Library
200 Stiles Ave.
Maple Shade, NJ 08052
856-779-9767
I have the list of FREE workshops I'm facilitating this year on my website. Why not stop by and have a look. Let me know if you have any questions. I'm here to help.
Now I'm off to see how you've tackled this month's question. I am extremely thankful for all of you for being my sounding board and advisors on this scary writing and publishing journey.
Thanks for stopping by Adventures in Writing, my spot on the web. Please come again!
This post was written for the Insecure Writer's Support Group. I'd like to thank my co-hosts for May: Joylene Nowell Butler, Ronel Janse van Vuuren, Meka James, Diane Burton, and M Louise Barbour! Please visit them if you can.
Our group posts on the first Wednesday of every month. To join us, or learn more about the group, click HERE.