Insecure Writers Want to Know
My first full-length book is the college memoir I'm trying to get published. I've sent out that cover letter to Zibby Books with the completed manuscript. Here's hoping!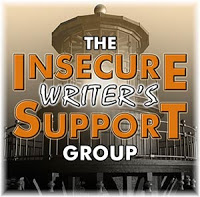 In my writing journey, I'm a short story writer, essayist, and poet. And I've always wanted a career in writing. I dreamed of editors asking ME for stories or poems or asking ME to research topics and create non-fiction pieces for their magazines or papers. You know. "Hey, we need an adventure story. Let's contact Victoria Marie Lees and have her create a five-thousand-word story for this issue. Like I was in their rolodex on the desk as a creative writer on call. Back when I saw a few of the same author names each month in the magazines my children or I received. Or maybe I'd write a column regularly that everyone waited to read.
Right! That's back in the olden days.
Now I write and create and hope that someone finds my writing thought-provoking. Exciting enough to rise to the top of the "slush pile" to see the light of day. To be brought by the first readers to an editor's attention and say how about this piece?
Now most periodicals and papers are online and writers need to contribute stories and articles—or posts—for free just to get their name out, just to be seen and recognized for what they do and know. I guess it's called marketing your brand.
What do you think about writers feeling the necessity to share their expertise online for free; when back in the dark ages—before all this social media and forums—a writer would be paid for sharing their knowledge with others?
I'm not bitter. I understand how the times have changed. I try to share my knowledge, too. For me, it's mostly called blogging or writing newsletters to obtain that all-powerful mailing list.
** Please, if you're interested in learning what I know about creative writing or family camping, just sign up for "A Dose of Life's Adventure" here at my website. It would be greatly appreciated. I create a short newsletter maybe once a month. **
But I've contributed articles and blog posts for free for South Jersey Mom, a monthly periodical, and for the blogsite Easy to Love, But Hard to Raise, personal experiences of raising a child with special needs. I couldn't find a live website for Easy to Love. It might not have the blog anymore.
Still, I try to make money when I can with my writing. Last month, I submitted an essay about my college journey to The Writer Magazine for a contest. In it, I condense what it's like to be a mother in college.
And I've submitted poetry, two different series of poems, for two different contests. A total of ten poems.
Here's hoping that at least something resonates with the contest gods. Fingers crossed!
I've been working on short stories for my middle grade collection about Dealing with Death. A tough subject for young people for sure. I add a touch of adventure and danger and have the protagonists not only be the hero in the story, but also come to realize that their parent or sibling, etc., is still with them, guiding them from the knowledge they had shared.
Now I'm off to see how you've tackled this month's question. I am extremely thankful for all of you for being my sounding board and advisors on this scary writing and publishing journey.
Thanks for stopping by my little spot on the web. Please come again!
This post was written for the Insecure Writer's Support Group. I'd like to thank our co-hosts for April: Jemima Pett, Nancy Gideon, and Natalie Aguirre! Please visit them if you can.
Our group posts on the first Wednesday of every month. To join us, or learn more about the group, click HERE.