Happy February, everyone! There's no time like the present to start planning that family camping trip this summer.
Start planning your trip before the campgrounds open for the season. Meet with the family to get everyone's input. Decide the type of camping experience your family wants.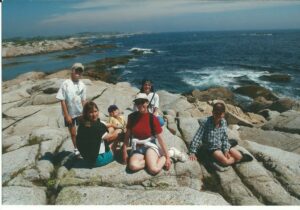 Remember finances. A good reason to camp is because it's an economical way to travel. The cost of campgrounds is determined by the number in your party and the amenities available. Commercial campgrounds have all the amenities: electricity, water, and sewerage hookups, playground, pool, arts and crafts, activities, game room, bath houses, and store. They cost more than the primitive campsites with no hookups or amenities.
Consider everyone's abilities at this stage of your planning. Don't forget to include the ability to travel for long distances in a car/van. Remember that everything takes longer when camping: set-up, meals, cleanup.
2. Gather details about things to do in the areas or parks you plan to visit. Plan events that everyone can do. National parks, and some state parks, have ranger stations and give tours and talks about nature. 
Can everyone hike, raft, or horseback ride? Are there town festivals and amusement parks nearby? Gather brochures and tour books from travel clubs. Check websites.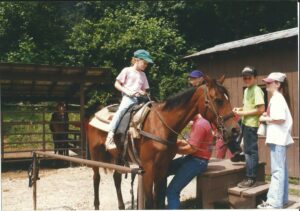 Don't forget to factor in driving distances and travel times. Time zones or ferry schedules need to be considered in addition to the amount of driving time per day if you have long distances to cover.
Rest stops are crucial for tired drivers, children who need to use the restroom, or having an unhurried picnic lunch. It's a vacation, and vacations need to be somewhat restful for all involved.
3. Check your camping equipment. Start with your travel vehicle. It needs to be in good working order. Have a mechanic look it over. Oil change, tune-up, fluids check, sensors [oxygen or engine coolant temperature], exhaust system, air conditioning. New tires aren't a bad idea if you plan any far distances. 
What you bring with you on your camping trip depends on where you stay and what you camp in. Primitive or commercial campgrounds. Tent, trailer, camper, or cabin. If there is no barbeque grill or fire ring available at the campsite, you'll need something to cook on.
We use a Coleman camp stove that uses propane. Propane is available at campground stores. Wood is available as well at the camp stores for campfires. Bring cooking pots and utensils. We refrain from using disposable cups, plates, and plasticware to help the environment. Then pack appropriate bedding and towels, in addition to personal items.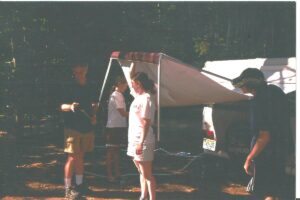 4. Begin reserving your campground site(s) once you have a vacation plan and the dates for the trip. If you are camping in several places during your vacation, remember to consider the time needed to break camp and travel to your next campground. 
Alert your next campground of your possible arrival time so they hold your campsite for you, especially if you'll be getting in late. This is important when you plan to camp in popular vacation areas. They fill up quickly.
5. Packing: Get everyone involved to build family excitement. Make check lists for kitchen, bedding, clothing, food, and toiletry. Don't forget the bug spray, sun screen, hats, and raincoats. Load the vehicle and/or camper prior to the day of departure, except for perishables. Bring any reservation material you may have, a global positioning device [GPS], and maps. Always bring current maps of the areas you will be driving through or staying in.                    
It sounds like a lot to do for a family camping vacation, but it's well worth it. Plan those precious memories that fill a scrapbook and last a lifetime. Good luck! And enjoy your family camping experience.