Insecure Writers Want to Know
Wouldn't it be great to have experience to answer this question? My first book-length manuscript is my college memoir, which I'm working on getting published this year. Fingers crossed! I know. I know. It makes it difficult to type that way. But I keep trying!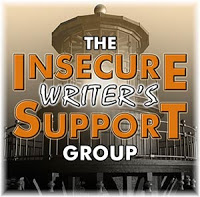 I'm presently revising a short introduction to the college memoir, explaining that this is my story through college and not my special-needs daughter's story, although she is a part of this journey. It was suggested that I clarify for the reader exactly whose journey this memoir is.
I open the memoir in scene with my special-needs daughter signing up for her high school courses with the guidance counselor. I was present, as I always was to be sure my daughter wasn't left behind in her education. This particular scene is the impetus for my attending college at this time in my life. The first three chapters are scenes and backstory about my struggles in education along with my daughter's struggles. My children and family are in the memoir story for sure, but it is Victoria's college journey.
It has also been recommended that I send the manuscript to Zibby Books Press, a publisher of women's stories. The press is "part of Zibby Media, the book-centered ecosystem founded by Zibby Owens," it says on the website. "Zibby Books publishes one book a month so that every book — and author — gets undivided attention at launch."
Do you know of this press? You don't need an agent or any money up front to submit manuscripts. You only need to send a cover letter and the manuscript. I don't have any more information than that at this time. I've checked out some of their books, though. Extremely well-written. I looked at their author bios and how Zibby promotes the books. Zibby is a prolific writer herself and has been interviewed on several podcasts I've listened to. I'll keep you posted how it goes and what I learn.
Please feel free to offer any comment on my intro for my memoir or the information I've explained above. I'm always open to any insight you may have, dear IWSG writers. Thank you!
Now I'm off to see how you've tackled this month's question. I am extremely thankful for all of you for being my sounding board and advisors on this scary writing and publishing journey.
Thanks for stopping by my little spot on the web. Please come again!
This post was written for the Insecure Writer's Support Group. I'd like to thank our co-hosts for February: Jacqui Murray, Ronel Janse van Vuuren, Pat Garcia, and Gwen Gardner! Please visit them if you can.
Our group posts on the first Wednesday of every month. To join us, or learn more about the group, click HERE.