Insecure Writers Want to Know
Hello and welcome to Adventures in Writing! I'm so glad you are here. Please let me know what you think of my website. And please join my newsletter "A Dose of Life's Adventure." It would be greatly appreciated.
I'm honored to be co-hosting this month for Insecure Writers Support Group. My fellow co-hosts for October are: Tonja Drecker,  Mary Aalgaard, and Sandra Cox! Please visit them if you can.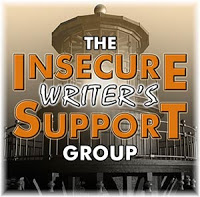 My favorite genre to write is contemporary adventure with a splash of danger. Where I thought I was creating young adult stories, I just learned from writer friends that, in today's context, my stories are considered more middle grade because of their themes. Although my protagonists are about 13/14 years old, my themes are about familial relationships. MG deals with finding a place in community or family. These are the internal struggles of my many protagonists.
YA protagonists are usually 16 to 18 years old. Their themes are more egocentric in nature. The older protagonists are trying to find their place in society. The gritty topics of present-day YA culture deal with drugs, drink, violence, or sex.
I never thought about this, although I read widely. Cricket Magazine's readership is 9 to 14 years. They've published quite a few of my stories. They're considered a literary magazine.
What do you think about these kid literature parameters? Have you heard differently?
As to the best characteristics of creating young adventure stories, in my case, no one dies as a result of the danger or adventure in the plot. And by the end, both the internal relationship angst and the real danger in the plot will be resolved. I dislike stories without a solid ending. Happy or sad.
My favorite genre to read is cozy mystery. I love the whodunit! The best characteristics of cozies are the cerebral puzzle. And the solid endings. The bad guy always gets caught. Justice is served. Life doesn't always work out. I need to write and read stories where everything works out.
What do you think? Do you like solid endings to stories? Even in a series, we need to have conclusions to the story tension of that particular book. The major themes and overarching themes can move onto the next book, but the story tension and plot of one book should come to a conclusion.
While many people signed up for my September poetry presentation, not many showed up. I tried not to let it get to me and focused my presentation to what the small audience wanted to know and discuss. How do you handle small attendance to one of your events?
My next in-person workshop event will be at the Maple Shade Library in New Jersey. If you are in the area, please stop by. I'd love to meet you. This is a free writing event for participants.
Here are the details:
Thursday, October 20, 2022, at 2 p.m.
"Tall Tales and Short Stories"
Maple Shade Library
200 Stiles Ave.
Maple Shade, New Jersey 08052
(856) 779-9767, ext. 311
Please register for the event at the Burlington County Library System.
Now I'm off to see how you've tackled this month's question. It's wonderful having a topic to share our thoughts on each month. I am extremely thankful for all of you for being my sounding board and advisors on this writing and publishing journey.
Thanks for stopping by my little spot on the web. Please come again!
This post was written for the Insecure Writer's Support Group. Our group posts on the first Wednesday of every month. To join us, or learn more about the group, click HERE.