Allowing young children to help prepare a meal for the family builds confidence. It makes them feel good. Let them discover the smells of spices and ingredients for the recipes. Kids in the kitchen improves math and reading skills in older children. I've allowed my children to cook and bake with me since they were two years old. So naturally, I'm doing the same thing when my grandkids come for a visit.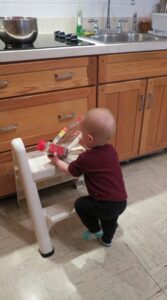 After washing hands thoroughly before you begin, here are five tips to help make this experience with kids a success:
Start preparing the meal way before dinnertime. Everything takes longer when you allow kids to help with tasks because you are teaching them how to measure ingredients and showing them how separate ingredients mix together and become something new.
Let the kids be in charge whenever possible. You are merely a guide in food preparation with kids. Let them get the supplies when they can: bowls, mixing implements, ingredients, the recipe.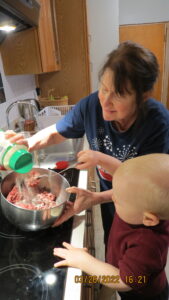 Give kids a hands-on experience when preparing recipes. Allow the kids to find the right measuring cup or spoon and dig into the flour or parmesan cheese. Teach them how to level off measuring before adding it to the bowel. Let them stir.
Make the experience age-appropriate. Let them read the recipe if they can. Help them to sound out words. Younger kids love to crush things. This is years of personal experience talking here. Now it's my grandsons who love to crush the crackers for turkey stuffing. So depending on age, let the kids crack the eggs or dice—with a small knife and much guidance—the tomatoes or celery. Most kids enjoy getting sticky fingers kneading dough into rolls or forming cookies or meatballs.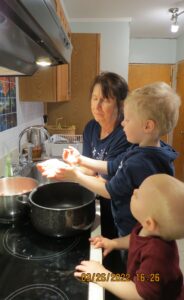 Be silly and have fun! Talk to the kids throughout the whole experience. Don't be afraid to say silly things. We made meatballs together this time and I would take out their puny meatballs that they forcefully slam-dunked into the pot, flattening one side, and casually toss them back into the bowel saying, "What's this little thing, a meatball for a mouse?" They'd giggle and tack on a tiny bit more meat mixture and then slam-dunk the slightly bigger meatballs into the pot.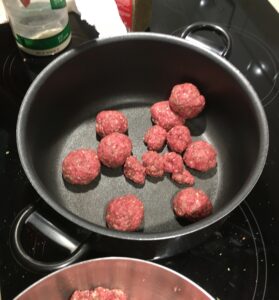 Making memories with the kids in the kitchen can fill the heart as much as the belly. Why not try it, remembering a few of these tips. It can be good for the soul of both adult and child. Thanks for reading!