Insecure Writers Want to Know
The person who had always believed in me even before I believed in myself would be my mother. I lost her to cancer three years ago. She was my cheerleader. My confidant. My first reader. She listened to me. She corrected me. She loved me. I talk to her still.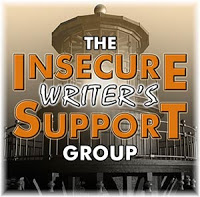 I attended college later in life, as many of you know by now. I wasn't able to find a writing mentor. I mean, no one wanted their mother as a protégé.
As for writers who have influenced me in my writing career, that would be you, fellow "Insecure" writers. And lucky for me, you are all still around. Your accomplishments inspire me daily. Your posts offer insight and a glimpse into the life of a working writer. And I thank you with all my heart.
I've just finished the last revision of my college memoir. The story is about overcoming the limits parents and teachers/counselors sometimes put on children when they don't understand that not everyone learns at the same rate. This is my story of parenting five children, of fighting for my special-needs daughter's education all told through the lens of my own college journey.
Book Jacket copy:
When Victoria Marie Lees signed up for high school courses, her father told her to forget about college. She didn't have what it takes and no one in his family ever failed. So she gave up her dream, became a secretary, married, and then became a mother of five. But when her daughter with special needs was told by a guidance counselor to forget about college, Victoria fought back. She applied to college – keeping the dream alive for herself and her daughter.
As for my audience?
Moms or parents for sure who want to better themselves through education. But perhaps also a broader audience. Someone who is being held back because of a label, held back because of what someone said to them. Someone who allows insecurity to eat away at him. A person who doesn't believe in herself or has a stifling fear of failure.
What can my memoir offer readers?
An understanding of how labels can be innocently placed on people, how they can keep someone from achieving their dreams, their full potential.
How, by attaching labels to a person, that person can begin to live them, make them a part of who they are, make them insecure.
And most importantly,
Show readers how to move forward to tame those misbeliefs, those fears, those insecurities—in my case—one college course at a time.
This memoir is the journey of fighting for my learning-disabled daughter's education while dealing with my own fears of college.
I'm still working on a clear title for my memoir. What do you think of these?
Perseverance Counts: Mom Survives College with Five Kids at Home
Shattering Stereotypes: Surviving College with Five Kids at Home
A Journey of Perseverance: Mom Goes to College with Five Kids at Home
*Please feel free to offer any insight you may have about my college memoir. It would truly be appreciated.*
Thanks for stopping by my little spot on the web. Please come again!
This post was written for the Insecure Writer's Support Group. I'd like to thank our co-hosts for February: Joylene Nowell Butler, Jacqui Murray, Sandra Cox, and Lee Lowery!
Please visit them if you can.
Our group posts on the first Wednesday of every month. To join us, or learn more about the group, click HERE.