Friends, I am developing a website through hover: www.victoriamarielees.com. I'm hoping to have the site live by August 2021. My Camping with Five Kids blog will be located at victoriamarielees.com as will my Adventures in Writing blog. One site to find Victoria Marie Lees and all her adventures and writing endeavors. Thank you for your support! And now for July 2021's blog post.
Summer is upon us here in the northern hemisphere. So, I thought I'd pose a question this month. Do you prefer the beach or the mountains for summer vacation?
Through the years, the Lees Troops have visited mountains, forests, rivers, lakes, and yes, ocean beaches. And we've enjoyed each one for their own beautiful qualities. I thought I'd share some photos.
Can you body surf in the waves of the ocean? I can't. My kids and husband can! I just tumble in the waves and end up with pounds of sand in my bathing suit!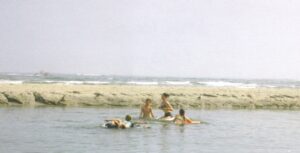 Tidal pools at Point NJ
Our favorite beach haunt is Stone Harbor, New Jersey. From building sand castles to body surfing, to wading into tidal pools at the point of the island, we've enjoyed years of endless memoirs.
We've visited the Pacific coast, too. Their sand is more granular and thick. But the children could still build sand castles. The water's colder though. We mostly stayed on the beach like everyone else.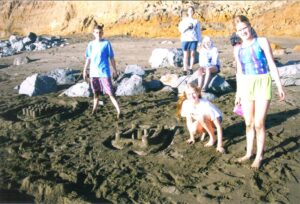 California sand
We visited Canada's eastern coast and traipsed all over Peggy's Cove and the rounded rocks.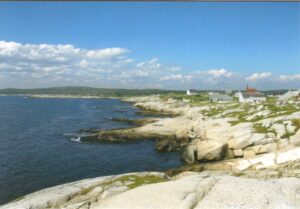 Peggy's Cove
We enjoyed the high and low tides of the Bay of Fundy in New Brunswick, Canada, and walked among the "flower pot" rocks of the Atlantic Ocean floor.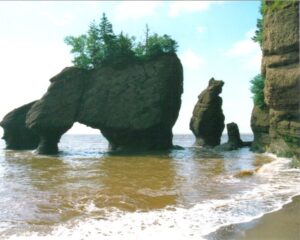 Bay of Fundy
Maine has its own beauty and cold Atlantic Ocean. We visited Acadia National Park and took the ocean trail. What looks like crumbling desert rock borders the frigid Atlantic here.
While the sun sets over the bay on the Atlantic coast in the United States and Canada, the sun sets over the Pacific Ocean on a California beach.
Washington state has its own beautiful Pacific coastline, as rocks and boulders dot a rugged coastline.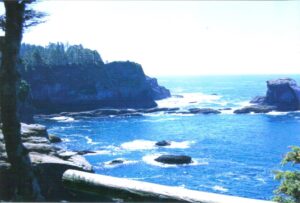 Washington St coast
If we move inland, the mountains have much to offer as well.
Mountains bring waterfalls and crystal-clear rivers and lakes. Some of which can be ice cold!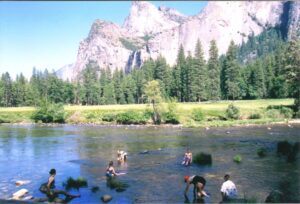 Yosemite National Park
But tannin-colored lakes and rivers run deep in forests and mountain areas as well.
Both beach or bay and mountain streams and lakes offer fishermen delicious catch to eat, although I believe you can only go crabbing at the ocean or bay.
You can go tubing down a rapid stream in the mountains or whitewater rafting down a wild river. We have done both. Several times!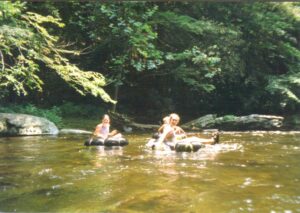 Tubing in North Carolina
Horseback riding in the mountains can speed up a hike—especially an uphill one in which young children are in tow!
I could go on forever! Both beach and mountains offer unique and fun things to do. We've filled scrapbooks and photo albums with fond memories.
On the east coast, from boardwalk rides at the beach to jumping off cliff ledges into a wild river in the mountains, if you are looking for fun things to do as a family, both landscapes offer memories to treasure.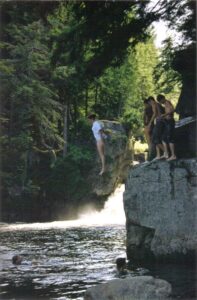 Ausable River, NY
Thanks so much for reading here at Camping with Five Kids! Please share whether you enjoy the beach or the mountains better for family vacations. Or maybe both, like us! If you prefer one over the other, why? There are no wrong answers here.
Well, things seem to be opening up all around us. Let's hope it continues and we have an end to this quarantining and mask-wearing. I'm ready to hit the state and national parks with no restrictions. How about you? Happy summer!