Things are starting to open up in Pennsylvania; restaurants, churches, and state parks. If you are vaccinated, you don't need to wear a mask. Yay for our state!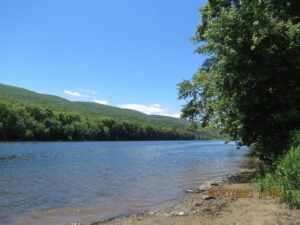 The Delaware River has a quiet but beautiful hiking trail along its banks on the Pennsylvania side, just north of the Delaware Water Gap National Recreation Area. The Joseph M. McDade Trail is a little over 31 miles long.
This past week, we spent a few afternoons hiking McDade and noticed how spring has dressed the trees and flowers in thick foliage that can sometimes crowd our view of the mountains and river.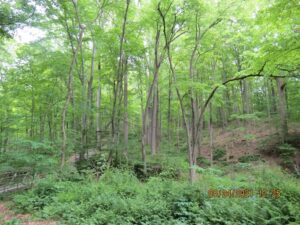 On this wide, gravel trail, we passed crop fields draped in cut stubble, perhaps fallow for the year or only the present time. The Delaware races by in whitecaps and swirls in some places and merely wrinkles in others. The water is clear and blue up here in the Pocono Mountains. Across the way, the muddy banks along New Jersey appear rustic and lush through our leafy windows.
Among the more colorful birds we saw and heard along the Delaware; the red-winged blackbird darted into some tall grass along the banks. A few yellow American Goldfinches zipped from tree to tree. The ruddy-colored Brown Thrasher made an appearance on the lawn by some picnic tables.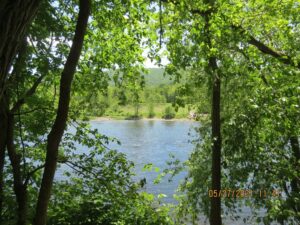 Fishermen tell me there are trout and bass in the Delaware at this point, and if they are large enough, you can keep them. Canoes and kayaks glide in the sun-dappled river. Small motor craft cause whitewater tails. There are businesses who drop off rafting groups at different times of the day. Picnic tables dot a few places.
You can ride bikes along the McDade Trail and we plan to do exactly that…once we get a bike rack for our hatchback Subaru.
There are many places to park along the winding length of this trail. Most all are free. But you do need to pay for parking at Smithfield Beach Trailhead. You can launch boats from here, and it looks like you can wade into the river, too.
Thanks so much for reading here at Camping with Five Kids! Please share some fun things that you and your family do in nature. Let's hope the quarantine will end and all our state and national parks will open with no restrictions for the enjoyment of the whole family. All best to you!