I am always in awe of artists. The color, the canvas, the medium. The talent. I wanted my family to appreciate art as well. Oh, we've enjoyed the art museums in the cities. We would go on Sundays when we could pay as a group. All pre-pandemic, of course. It's true. Everyone can be an art critic at times. But I wanted to instill in my children a love for the creative ideas of others.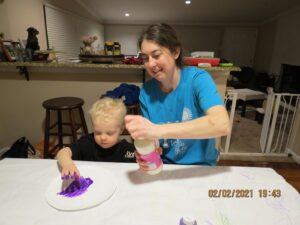 Fingers as paint brush!

Perhaps it worked. My grandson loves his fingerpaints on paper plates. With deft little fingers, he mixes the colors he asks his Auntie to squirt on the plate for him. The little guy even finds a good canvas for the leftover paint—his arms!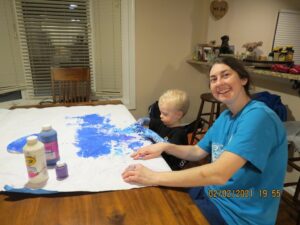 He looks a little blue!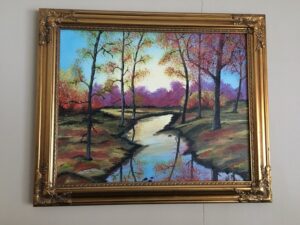 My daughter decorates
our home!

His mother, on the other hand, enjoys a more refined canvas for her paintings. She mixes her palette and uses a unique brush stroke to create fabulous work. Okay, it's true. I'm a little prejudice. What do you think?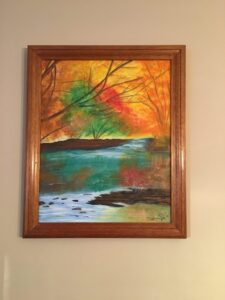 My daughter captures
fall!
Talk about unique artwork, wintertime brings an ephemeral type of medium for artists to use. Ice! Our family visited Historic Stroudsburg in Pennsylvania during Winterfest to see the beautiful ice sculptures in and around Main Street. Each year they have a theme. This year it was the Stroudsburg Ice Safari.
Clear-as-glass ice animals abound! Talent. Skill. To be able to carve sheer ice! These artists are amazing! We saw a warthog and toucan, a peacock and cheetah, an African elephant and giraffe—all in front of shops, restaurants and businesses, at Courthouse Square at the Pocono Mountains Visitors Bureau, and beside the "Snowmen of Stroudsburg," another art form that appears in town from November to February.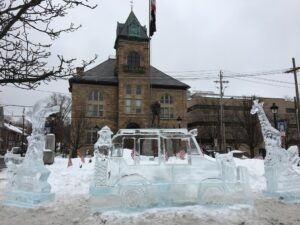 Courthouse Square
Ice Sculptures.
These artistic snowmen are life-sized, a basic three-ball-tier snowmen. Then various artists create different and unique motifs for each one. I'm not sure if each snowman is actually painted individually with pictures or if it is a decorated coating cover over the white body.
The snowmen are located all over Historic Stroudsburg and have different themes. We saw "Pocono Joe" dressed in fishing gear; vest, fishing hat, pole—even a fishing box. There was a scarecrow—Jack—with a straw hat and crows on his arms, a sunflowers-and-summer-fun decorated snowman, and even a wintertime kids-fun decorated snowman.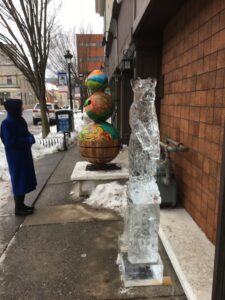 Snowmen and ice
sculptures around
town!

At downtown Stroudsburg, there were art galleries to visit and specialty shops and restaurants. Truly a fun afternoon!
Thanks for reading here at Camping with Five Kids! Please share some fun things that go on in your town or near you that are tied to wintertime. Let's hope 2021will be the year that the quarantine will end and all our state and national parks will open with no restrictions for the enjoyment of the whole family. All best to you!