Insecure Writers Want to Know
I've never really felt conflicted about anything I write. Oh, I've felt that it wasn't good enough. Or who would want to read all this? And: Why don't you find a real job, Vic! But I'm not conflicted about what I write.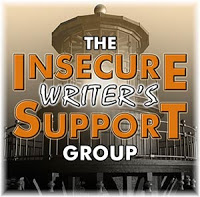 But I was wondering…
Do you take notes when you go on vacation or do something exciting to be able to use the experience in a story, article, or blog post later?
I'm talking about recording the facts of the exciting adventure or event you've had as well as how you felt about what was happening. The setting. The people. The danger. The exhaustion you felt afterwards. I want to remember my personal experience of it all.
This is why I take notes on our vacations. Of course, my husband and the kids hate it when I'm writing away on vacation. I understand how they feel. This is supposed to be our together time. Our family time. But I always want to remember particulars. Don't you? Or maybe your memory is better than mine.
We just returned from 26 days of adventure in Alaska and the Canadian Rockies. I'm still debating whether the airplane flights—with all the crowded waiting and delays—and taxi, bus, and train rides were more taxing on us than all the hiking and bushwhacking; all the kayaking and glacier walks we did.
We live in a beautiful world, ladies and gentlemen. And life is full of many experiences. Enjoy them all! Make memories! And yes, share them through your stories or blog posts. Look for mine at Camping with Five Kids at my website.
I am offering another FREE writing workshop at the Maple Shade Library in Maple Shade, New Jersey. If you are in the area, I'd love to see you there. I'm encouraging participants to bring their works-in-progress in order to ask specific questions. I want to help you finish your manuscript to the best of your ability.
My next FREE workshop will be on Thursday, August 17, 2023, at 6 p.m. We will be discussing what memoir is and how to make your specific stories universal.
Come, stay as long as you can. Ask questions. I'm happy to help you with your manuscript.
Here are the particulars:
Making Memoir Universal – 8-17-23 at 6-7:30 p.m. Please register here: https://www.bcls.lib.nj.us/events/6266
Maple Shade Library
200 Stiles Ave.
Maple Shade, NJ 08052
856-779-9767
To find other free workshops I will be presenting this year, just look under the Workshop Events tab at my website. Thank you!
Now I'm off to see how you've tackled this month's question. I am extremely thankful for all of you for being my sounding board and advisors on this scary writing and publishing journey.
Thanks for stopping by my little spot on the web. Please come again!
This post was written for the Insecure Writer's Support Group. I'd like to thank our co-hosts for August: Kate Larkindale, Diane Burton, Janet Alcorn, and Shannon Lawrence! Please visit them if you can.
Our group posts on the first Wednesday of every month. To join us, or learn more about the group, click HERE.