Insecure Writers Want to Know
Replace my writing time?
I can find lots of things to fill my time. Hiking. Biking. Camping. Reading. Gardening. Spending time with my husband and the kids and grandkids. Adventures would abound! Did I tell you we have a new canoe?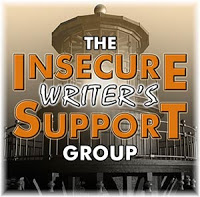 All this sudden free time. I've never been one to just sit around and do nothing. Baking. Decorating. Organizing. Cleaning—yes, I'd finally have time to do it without feeling guilty that I should be writing a book synopsis or a short story or newsletter or blog post or essay or gathering followers on social media.
But alas, I am a storyteller like my father. I am compelled to write. Is it a curse or a privilege? I believe it can be both!
Well, I finally did it. I wrote a two-page, double-spaced synopsis of my college memoir. And a one-page query letter. I was helping a fellow writer obtain her book-coaching certificate from Author Accelerator. I was her practicum client.
Writing a book synopsis helps a writer get to the heart of their story. It boils the inner and outer conflicts down to the main events and why they are important to the protagonist. Specific details are needed to show the logic of the story. And—man! Is it difficult to do. My synopsis is 723 words from a 55,000 plus word manuscript.
But a synopsis helps a writer to think about the main topic[s] of their story. To consider the story's audience. It gives the writer some threads to talk about in interviews or essays.
Here's the opening paragraph of my synopsis:
"My father tells me I'm not smart enough for college, and I believe him. It traps me in a fear of failure. I had struggled in primary school. My third-grade teacher suggested I repeat the grade to strengthen my reading and math skills, but my father said no. His children don't fail. We work harder. And I do. But he never believes I can become college material, no matter how much I accomplish. When I think of college, his words haunt me."
This is the baggage Victoria brings along as she attempts to obtain a college degree.
The best way to end a synopsis is to end with the takeaway, the statement—or point—you want readers to remember as they finish your book. Here's mine:
"I not only prove to myself that I can accomplish college, I also become a published author and teach writing classes. I show my family the possibilities when you believe in yourself."
Please feel free to offer any comment on the first paragraph or my takeaway for my college memoir synopsis. Any insight would be greatly appreciated. Thank you!
I'm still waiting to hear back from Zibby Books whether they want to publish my college memoir. I haven't heard back on any of the contests I submitted to. I'll keep you posted.
I am offering FREE writing workshops at the Maple Shade Library in Maple Shade, New Jersey. If you are in the area, I'd love to see you there. I'm encouraging participants to bring their works-in-progress in order to ask specific questions. I want to help you finish your manuscript to the best of your ability.
My next FREE workshop will be on Thursday, June 15, 2023, at 6 p.m. We will be discussing how and why all genres in fiction require story building. I'll offer some specific questions for writers to ask in order to help them understand how to create their logical worlds.
Come, stay as long as you can. Ask questions. I'm happy to help you with your manuscript.
Here are the particulars:
Creating a Logical World for Story – 6-15-23 at 6-7:30 p.m. Please register here: https://www.bcls.lib.nj.us/events/6446
Maple Shade Library
200 Stiles Ave.
Maple Shade, NJ 08052
856-779-9767
Now I'm off to see how you've tackled this month's question. I am extremely thankful for all of you for being my sounding board and advisors on this scary writing and publishing journey.
Thanks for stopping by my little spot on the web. Please come again!
This post was written for the Insecure Writer's Support Group. I'd like to thank our co-hosts for June: Patricia Josephine, Diedre Knight, Olga Godim, J. Lenni Dorner, and Cathrina Constantine. Please visit them if you can.
Our group posts on the first Wednesday of every month. To join us, or learn more about the group, click HERE.
*Please note* I will be unavailable in July. I'll see you again in August. Have an awesome June and July, everyone!