Insecure Writers Want to Know
The rush of the holiday season cuts into my writing time for sure. I can't even find the time to accomplish all the holiday activities sometimes. And I never could keep up with social media. I am certainly going to look for any tips on how you keep up, faithful IWSG writers, as I read your responses to this month's question.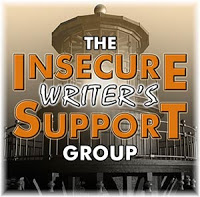 So, I've finished the last revision of my college memoir. The memoir is about 54,900 words including long chapter titles. The title is – Determination: Mother of Five Conquers College.
I'm going to include a short preface. Something like:
This is my story, my improbable journey through college at age 40. My journey began when someone tried to take the same college dream from my daughter, using the same logic. You're not smart enough. But dreams are meant to be gone after, regardless of how much work is involved.
My logline: A South Jersey mom of five gives her special needs daughter the opportunity of college by swallowing her own fear of failure and beginning college first.
I feel I should self-publish this memoir to get it out into the world. I want to show parents and adults that it is never too late to attend college. I want to show those who might have struggled in school that they can still attend college and be successful. I want to show those who have dreams that dreams can come true if only one is determined enough to see it through. Hard work can make things happen. We shouldn't be afraid of inferiority or opportunity.
Does anyone know what "marketing copy for the back of the book" is? Is that MY contact info or is it quotes from advanced readers about my memoir?
Marketing. [Something I'm afraid of.]
I need to write about the themes in my memoir for a magazine or website that caters to education or motherhood, a parent advocating for her child, or ADHD or junior colleges or older students in school. Each essay needs a sharp point and a place on a social media site to get noticed.
The memoir holds themes. Most are not heavy:
Labels placed on students [not smart enough]
Parenting – difference between Vic's parenting and her parents' parenting
Power of family – parents first teachers of children/advocates
Power of education
Not being afraid of opportunity
Power of believing in self – determination can get you through
Forgiveness [Vic forgives father for stifling her ability to believe in herself, her ability to succeed.]
Please feel free to offer any comment on my intentions with my college memoir. They would be greatly appreciated. Thank you!
Now I'm off to see how you've tackled this month's question. I am extremely thankful for all of you for being my sounding board and advisors on this scary writing and publishing journey.
Thanks for stopping by my little spot on the web. Please come again! Have a beautiful holiday season.
This post was written for the Insecure Writer's Support Group. I'd like to thank our co-hosts for December: Joylene Nowell Butler, Chemist Ken, Natalie Aguirre, Nancy Gideon, and Cathrina Constantine. Please visit them if you can.
Our group posts on the first Wednesday of every month. To join us, or learn more about the group, click HERE.