Spring, glorious spring, has come to our little piece of the world. And we are ready to find open trails to hike. The key word in that sentence is "open." This pandemic has been tough on everyone. Such an understatement! I know. COVID has indeed touched our family; from our oldest daughter being exposed at work and bringing it home, to my husband actually experiencing symptoms. These fevers and lack of appetite and energy are too scary for words!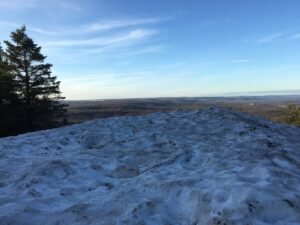 Still snow atop Camelback.
So yes, after all our quarantining, the family is ready for some fresh air and hiking. We start local, with short hikes. Recently, we visited Big Pocono State Park at the summit of Camelback Mountain in northeastern Pennsylvania in Tannersville.

We drove up and up the winding roads to the mountaintop parking. What a view! The Delaware Water Gap sits along the Eastern horizon, with the Wind Gap further south. Portions of the New Jersey mountains can be seen northeast of the Delaware Water Gap. The New York Catskills can be seen northeast from where you're standing on top of Big Pocono State Park.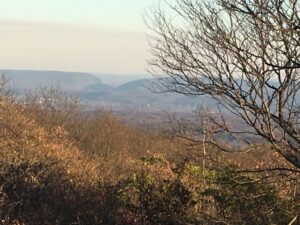 Delaware Water Gap
We trekked along the Rim Road Nature Walk first for a 360-degree view of the surrounding mountains and lakes. This walk is along the one-way drive just below the top of the mountain. We picked up a Rim Road Nature Walk guide located in a plexiglass box at the top of the mountain. This numbered guide provided information about trees and shrubs and wildlife along the walk. We are always looking to learn something new!
And then we research on our own. The Pocono Mountains are part of the Appalachian Mountain chain that runs along North America's eastern coast from Newfoundland to about Alabama in the United States. They are fold mountains that have been eroding for millions of years according to the National Geographic Society.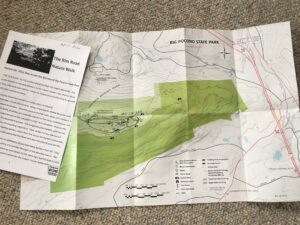 Another wonderful thing about Big Pocono State Park. It's a great place to watch the sunset.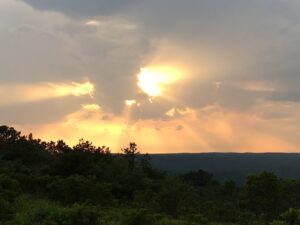 The park is open from sunrise to sunset. Picnic areas are available. The air is fresh. The views are awesome. It's a free park. Enjoy!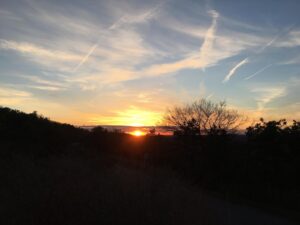 Thanks so much for reading here at Camping with Five Kids! Please share some fun things that you and your family do in nature. Let's hope this spring the quarantine will end and all our state and national parks will open with no restrictions for the enjoyment of the whole family. All best to you!