First, I'd like to thank you, my fellow Insecure Writers, for your patience while we moved. In that short space of time, we moved our oldest daughter in with her sister and her family. My husband and I packed up our home of 36 years, sold it, and moved three hours away. And finally, we moved my 96-year-old mother-in-law into a nursing home. Sheesh! I'll be going through boxes forever looking for what I need at the moment. You can read a short post with photos about our moving adventure at http://campingwithfivekids.blogspot.com.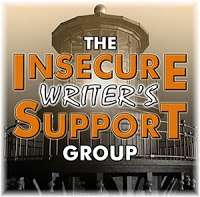 Now let me think…the perfect beta partner for me, if I could choose anyone, would have to be the writing teacher and author Beth Kephart. Kephart has the ability to look at themes and characters from many angles. She sees the story beneath the plot. This is a gift for any writer.
Kephart is a memoirist as well as a YA writer and poet, and it never ceases to amaze me how she can uncover such deep emotional truths in life through story, in both fiction and memoir.
I write both YA fiction and memoir and would love to hear her feedback on whether I have reached the inner core of the story I'm trying to visualize for the reader. However, being that highly insecure writer that I am, I'm not sure if I'm brave enough to hear it. Of course this is why writers need to be brave in order to improve their writing. We must learn from each other. Share ideas and methods. Choose the ones that will work for us to make our stories the best they can be. And then we need to be brave enough to let the stories go and send them out into the world for others to judge whether we have accomplished our goal of creating a great story.
I'll be interested to see how you've tackled this month's question. It's great having a topic to share our thoughts on each month. I am extremely thankful for all of you for being my sounding board and advisors in this writing and publishing journey.
Thanks so much for visiting! Please follow Adventures in Writing if you haven't already and connect with me online. Leave your blog link in your comment so I can be sure to do the same for you.
This post was written for the Insecure Writer's Support Group. We post on the first Wednesday of every month. To join us, or learn more about the group, click HERE.