Rituals to help me get into the writing zone? I don't know if these are rituals, per se. But chocolate and a fresh hot pot of tea go a long way to help me write. Now if they could only give me the structure of the story and the words, I'd be good. To find those, I usually need to go for a walk in the woods. By myself! That's the hard part. Especially now with everybody home.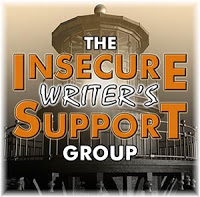 And even when I'm in the zone, hammering away at a YA short story, hoping with all my heart this story might bring in another published clip, Cricket Magazine cuts me down with a form rejection email. Each time I think it will get easier to take, but for me, rejection still stings.
So another walk ensues to talk to the Lord about why I try so hard and seem to get nowhere. It's better than yelling at my family. It's not their fault no one's waiting for my stories. But I always come crawling back to my computer to begin again. That's the courage we writers need to find again and again. And it's not easy to find!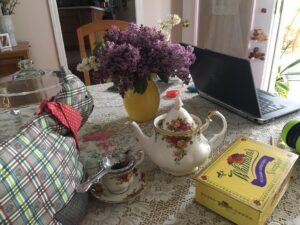 A hot pot of tea and chocolates!

But if we're lucky, we get a yes for publication. I have a Cricket story coming out in the June 2020 issue, if they can get the magazine out with this pandemic. Sometimes we may receive positive feedback from editors or critique partners about our stories. This truly helps to build our confidences as writers. At least it does for me.
My college memoir editor told me I've found my voice in the story. When we speak of voice in story, we are talking about the character's voice, which shares much with its author—even in fiction. I'll talk more about voice and narrator in my Author Toolbox post later this month. But for now, I wanted to mention what my editor shared with me. She explained that my memoir character's voice is how I would normally speak, especially the wry wit part.
As a highly insecure writer, I needed my editor to confirm–and she did–that my memoir story held:
questioning of what I was doing,
wondering if I'll succeed.
But it needed to be interesting, and what makes it interesting, the editor says, is hearing me tell it in my own way—in my voice, with all the funny parts with family and classes that made the editor smile and root for me.
You see, I thought for a book-length project [this is my first], I needed to fully paint a scene, to delve deeply into the why of the story, to stress over the needed tension, and worry that I've solved my problems too early. But my editor let me know it is all there. Not perfect, but it is there. As I continue to revise, I hope to be ready for beta readers by fall 2020. I'll keep you posted! Let me know if you are interested in beta reading for me. This is a short memoir. I'll be lucky if it is 60,000 words. Please contact me with your email address.
As for now, I'll be interested to see how you've tackled this month's question. It's great having a topic to share our thoughts on each month. I am extremely thankful for all of you for being my sounding board and advisors in this writing and publishing journey.
Thanks so much for visiting! Please follow Adventures in Writing if you haven't already and connect with me online. Leave your blog link in your comment so I can be sure to do the same for you.