Rain isn't always such a bad thing when camping. True, it makes the trails squishy and muddy, and we need to wear raincoats and boots. But rain makes forests lush. It fills mountain streams and those gorgeous waterfalls.
My family makes fun of me sometimes. After bouts of drenching rain while hiking, the last thing the kids want to see, while on the trail, is more water. But I like searching for waterfalls.
"If the Lord spent all this time filling up the waterfalls," I tell the kids. "The least we can do is admire them."
Now depending on how damp the kids are, a lot of rain has the ability to saturate more than just our surroundings, they glare at me. So does my husband. But I press on with my badgering. Ahem! My pleading, or rather suggestions, for hikes to waterfalls.
Yes, we've been to the biggie: Niagara Falls. But those falls don't require constant filling up with rain to sustain them.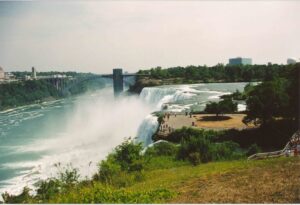 Niagara Falls: American
Falls side in New York
The Cullasaja Falls
drop 250 feet and are visible from US Highway 64. Unfortunately,

we couldn't hike into the area and get close to the dramatic crashing water of the lower falls in the

Cullasaja Gorge.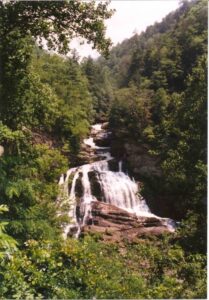 Lower Cullasaja Falls
in North Carolina
Trails! I love trails to waterfalls. Have you ever wanted to hike behind a waterfall and not get wet? We did. We hiked behind the Dry Falls
and didn't even get damp! How do you like that, kids?
Dry Falls has a 75 foot drop from overhead. We hiked the path that led to an alcove behind the falls. The water thundered in front of us, but we couldn't reach out and touch it. Dry falls is on the Cullasaja River. It's located in the Nantahala National Forest, northwest of Highlands, North Carolina, along US Highway 64.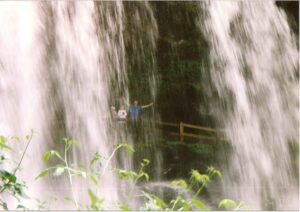 The family behind Dry Falls, N.C.
BridalVeil Falls
didn't have much water tumbling over the lip of rock. The 120 foot drop from the top of the falls to the pavement is quite sheer, like the Bridal Illusion, the tulle fabric of a bride's veil. We not only drove behind the falls, I had to get out of the van and pose behind this watery veil.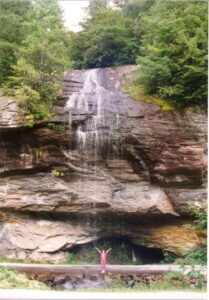 Behind the veil of
water at Bridal Falls
Sliding Rock Falls
is a natural mountain waterfall in Pisgah National Forest
,
eight miles from Brevard, North Carolina. It's a small slide-type waterfall on Looking Glass Creek. We learned that 11,000 gallons of water flows over this huge boulder each minute. We also learned that you can ride it down.
"Wait! I just wanted to see waterfalls. Or touch the water. Not ride them!" I told the family.
"You made us trudge through forests and mountains looking for water falling off cliffs and boulders, Mom." My son reminded me.
"Think of it as an adventure," My husband said.
We lined up with the locals to wait our turn. Everyone went one-by-one, which I liked. You can't really steer on this slick, black chunk of rock. The water was freezing, although the locals told us it's normally 50 to 60 degrees.
"To New Jersey folk, that's freezing," I told them.
The frigid water was only part of the problem. We—I wouldn't let the kids do it without me or my husband doing it first—dropped down the 60-foot flat-ish, sloping boulder into an eight-foot deep pool. Then we needed to swim over to the shore and get in line again. The kids and my husband wouldn't do it just once—like I wanted to.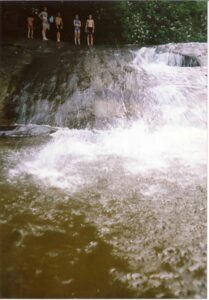 The five kids at the
top of Sliding Rock Falls
Luckily, we didn't see the "Bust Your Butt Falls." Good thing! My butt was busted from the pointy parts I kept hitting on the way down Sliding Rock Falls. It was amazing to me that neither my husband nor my children hit those pointy lumps on the boulder when they slid into the Looking Glass Creek at the bottom of the falls.
I always like to give hiking tips on Camping with Five Kids. Here's an important one: Park rangers advise hikers never to drink untreated, wild water in streams or springs. Even if it looks clear, there may be bacteria that we can't see that can cause diseases in people, especially young children. It's never worth the risk. If you don't have a water filtration kit, which I'll talk about next post, don't drink the water.
The whole reason to go camping with the family is to enjoy each other's company while traveling and seeing this beautiful world of ours. Have fun on your next camping adventure, no matter where you go. Feel free to share your favorite waterfalls or family activities. Just leave a note in the comments section here at Camping with Five Kids. It would be truly appreciated. Enjoy your adventure!