Another wonderful place for children of all ages to visit is the free Cape May CountyPark and Zoo in New Jersey.
The zoo
has a wide range of interesting animals; like African lions, giraffes, and zebras. But what my children loved most were the unusual animals.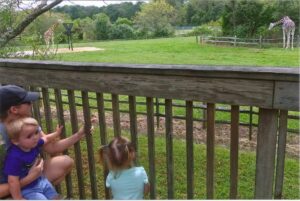 Watching giraffes at Cape May Zoo.
"Mom, look!" My son called me over. "Bongos!"
"What?" I walked over to the grassy open area my son was standing in front of. "They look like chunky gazelles with skinny white stripes."
"No, Mom." My son shook his head, always pleased with himself when teaching me something new. "These are Mountain Bongos from central Kenya," he read.
"Then what are they doing here in New Jersey?"
My son, in classic style, rolled his eyes. He surprised me with a great reply. "They like the shore, too." And he ran after his sisters.
My husband laughed. "He's learning a lot from you," he teased.
But that's the idea. Children are supposed to learn from their parents. Hopefully, good stuff. That's why we go camping with five kids and explore interesting places, like zoos.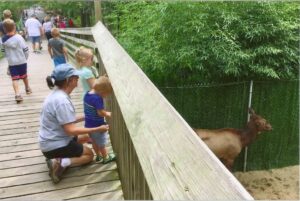 The many boardwalks, trees, and
pens at the Cape May Zoo.
It soon became a game. As we walked the many shaded boardwalks to discover what was in the pens or monkey and bird enclosures, the children wanted to be the first to identify a strange animal, bird, or reptile for me. And they did.
We saw Ankole Watusi from Africa. The Watusi have thick, long horns. They are a breed of cattle. We found many unique and colorful birds and monkeys. We glimpsed cheetahs and tamarins. My favorite was the snow leopard with his huge paws and muted, spotted coat. He didn't stay out in the sun long because of the heat. I suspect his hut was air-conditioned.
If you are visiting the southern New Jersey shore, the shady, cool, free Cape May County Park and Zoo is a great change of pace from the hot, sandy beach. The animal habitats are open and spacious for the most part. We watched the herbivores, the animals who eat plants and grasses; like American Bison, alpacas, and elk, roam the grass and tree lands. The carnivores, of course, are more contained. Signs and fact boards offer the viewer more information about the animals.

 
           

Although we usually go in the summer, this zoo is open every day except Christmas. The park also offers playgrounds and a few rides; picnic pavilions and trails. Cape May Safari Café offers "healthy choices" for snacks and meals. But we opted for our own picnic lunch. There are seven of us, remember?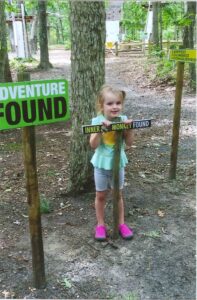 The playground and slides
are through the woods.
           

Feel free to share your favorite zoo to visit with the family or any aquarium or place to see and learn about animals. Perhaps you know of a good website on the internet that offers photos and facts about unique animals. Just leave a note in the comments section here at Camping with Five Kids. It would be truly appreciated. Enjoy your family adventures in 2020!