Happy New Year, Everyone! We wish you health and fun adventures in 2020.
The Stone Harbor, New Jersey, Wetlands Institute
teaches people about the need to keep our
precious

coastal salt marshes clean and protected

. This is a special ecosystem for many creatures; such as, coastal birds, diamondback terrapins, and horseshoe crabs to name only a few. This is their habitat. We are only visitors.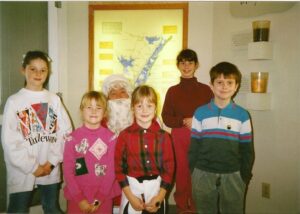 Seeing Santa at the Holiday Bazaar
Wetlands Institute.
The Wetlands Institute performs "research, education, and conservation through a variety of community-engagement projects, educational programs, and field studies." [from website] Recently we learned that with the concern about the rising sea level, the marshlands are in danger of drowning and sinking. The grasses are disappearing. Sediment is important to these coastal ecosystems. We discovered that now when they dredge the main channel for shipping, they are using any "clean sediments" from the dredging to enhance the height of the marshlands to counter this rising sea level, according to Dr. Lenore Tedesco, the Executive Director of the Wetlands Institute. Dr. Tedesco has an interesting TEDx talk about nature and climate change. You can access it here.
But the Wetlands Institute isn't all work and no play. My mother-in-law used to volunteer in the kitchen at some of the functions. She even took us along, sometimes, to pass out plates, utensils, and drinks and clear tables. But one time they were short-handed in the food line, so they asked if we'd help out.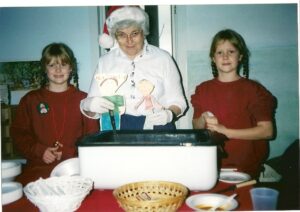 Helping our Grandma at the Wetlands.
"Of course!" I said. I knew it was best to keep my son close by so I could keep an eye on him. I was in charge of hot dogs and buns. My son was in charge of offering sauerkraut to customers who purchased hot dogs. The girls handed out the cookies nearby. The problem was, my son got so excited about offering sauerkraut to people that he offered it to everybody, whether they purchased a hot dog or not.
"You want sauerkraut with that?" He'd ask anyone who passed him.
"Son," I'd say, "they're having cookies."
Someone would come through the line and have only coffee. And my son would ask if he wanted sauerkraut with it. We sold a bunch of hot dogs, but mostly what everyone in the food line remembered—and commented about—was how this young salesman was very excited to offer sauerkraut with anything they purchased.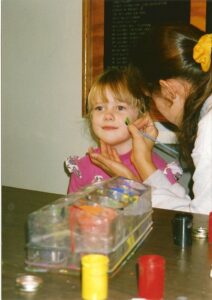 Face painting at Wetlands.
In other visits to the Wetlands Institute, the kids would join in the fun at the festivals. They'd have their faces painted. They got a chance to climb up into the "osprey nest" in the learning center. The kids made nature crafts in the activities room. Sometimes I helped out with the crafts.
There is so much to learn about our wetlands. Just as we would go to all the park ranger events at our national parks when we went camping with five kids, we'd go to talks and events at the Wetlands. Our kids got involved with a few hands-on experiments presented there. They loved the touch tank as all kids do. Life is about learning new things, and I learned right along with my children.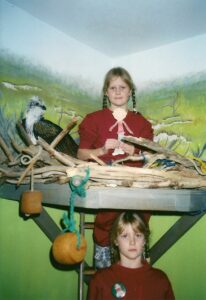 Climbing up to the
Osprey nest.
We'd watch the Livecams to check on any nesting osprey. We'd walk all over that salt marsh nature trail. Now you can listen to up-to-date information on your smartphone by paying a small fee to use their call in number and punching in the stop number. We learned about diamondback terrapin turtles in the museum. We learned about estuaries and why they are necessary. Truly this is a great destination to visit for families. I love learning about nature. Why don't you see for yourself?
Feel free to share your favorite family places to learn new information, whether it is in a state or national park or at a museum or even at a good website on the internet. Just leave a note in the comments section here at Camping with Five Kids. It would be truly appreciated. Enjoy your family adventures in 2020!