The holidays can be such a hectic time of year, so difficult to find that much-needed time to have fun with your family. I mean there are gifts to buy, cards and letters to write, homemade goodies to bake, meals to plan, and a home to decorate.
All this combined with holiday concerts and parties and cookie exchange parties. Sometimes quiet family time gets lost in the shuffle.
So I try to combine both preparing for Christmas and spending quality time with my children.
Nope! It's not easy. As long as you realize this, you can move on with your attempts at "family" time.
For gift buying and wrapping
, as the children got older, I invited them along to help make surprises for other people. We took labels from the Giving Tree at church and bought gifts for the less fortunate. This taught our children to compare prices and manage money as they grew. But it also taught teamwork and how to combine resources and make decisions on what to buy. And they've always loved wrapping gifts. –Inside tip: Buy extra wrapping paper and tape! If your kids are anything like mine, they will use inordinate amounts of paper and tape. And some extra pairs of scissors will help, too.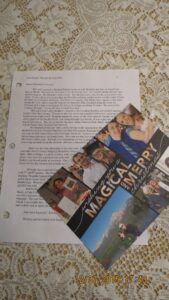 Our End Result!
Holiday cards and letters
can be more difficult to get the kids involved in. So I tell my kids they have to help me remember all our adventures during the year. The kids crowd around me at the computer and we start. Memories fly at me from all sides. Laughter fills the room. We sift through the stories and *hopefully* make a coherent, entertaining family letter to accompany our Christmas cards. After printing out some copies, the kids help by writing out the cards or envelopes or putting on the return stickers and stamps. We stuff them and head to the post office.
Baking, oh my gosh, the baking
! It has definitely improved since the children were little. You really need patience with this one, especially if the kids are still very young. This is a learning experience for both parent and child. At my house, whoever wants to help with the cookie bake helps with combining ingredients and forming the dough and cookies on the tray.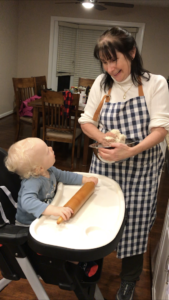 My master roller for pies!
Sometimes another crew of children will sign on for baking homemade cinnamon breads. Try to allow for some fun; like flour fights. The big thing to remember here is to make extra to pay your help in goodies. Otherwise there is nothing left for guests and cookie exchange parties. Always remember to allow children to help plan a holiday meal. You'll have a better chance of them eating that way.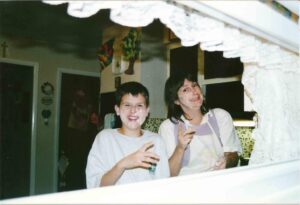 Flour fights can be fun!
Decorating the home and Christmas tree
.
Here's a real challenge to teamwork. Yes, we need a leader, only I consider them more like a director. Depending on their ages, allow one of your children to take a turn at being director. We are not talking bossy here. The situation is to show your children how to work as a team and direct where things should go. They are a designer, creating a special holiday feeling for their home. It doesn't matter if it's not like last year. You put on the Christmas music and "Deck the halls!" Of course, our Christmas tree still doesn't get up before Christmas Eve, when the extended family and friends come for dinner and to visit. It's finally become a Lees Family tradition.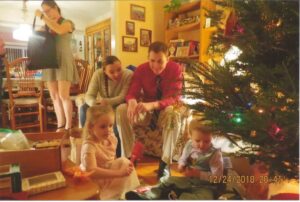 Decorating the Lees Family Christmas
tree on Christmas Eve.
The holidays are a time to catch up with family and friends, to share stories, to enjoy delicious homemade baked goods with tea or coffee, and linger over dinners.

It's a time to enjoy one another's company.
With all the gift buying and card mailing; the home decorating and meal planning; baking cookies and breads, pies and cakes, do you ever feel the added pressure of trying to find quality time for the family at Christmastime? Please let me know how you fit everything in during the rush of the holidays. Just leave a note in the comments section here at Camping with Five Kids. It would be truly appreciated.
Have a wonderful Christmas and Holiday season! Enjoy your family.